Blog
Back
3 Socially Distanced Activities to Do in Burnside Gorge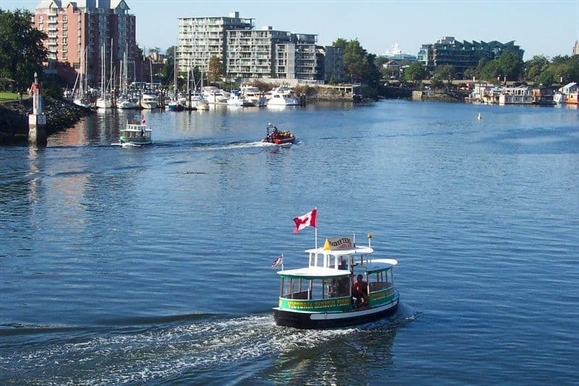 With its unique combination of commercial, industrial, and heritage areas, Burnside Gorge is quickly establishing itself as one of Victoria's most exciting up-and-coming neighbourhoods. Just a short walk from the Inner Harbour will lead you into a charming district that boasts gorgeous natural spaces and trails, a diverse assortment of restaurants and cafes, scenic waterways steeped in history—and plenty of ways to enjoy it all while safely socially distancing.
HOP ABOARD A BOAT TOUR OF THE GORGE
The Gorge Waterway, a narrow tidal inlet that stretches out from the Victoria Harbour and frames Burnside Gorge, is not only beautiful but also has a rich history. Experience it all from a unique vantage point with a relaxing, educational, and scenic boat tour from Victoria Harbour Ferry. On the 45-minute guided tour, you'll learn about over 4,000 years of Coast Salish history, how the Gorge was nearly destroyed by pollution and the extensive restoration efforts to replenish its ecosystems. Plus, you'll get up close and personal with the local marine wildlife.
TAKE A NATURE WALK
One of the very best things about Vancouver Island is its abundance of lush, natural beauty. And Burnside Gorge is no exception: the Victoria Harbour Migratory Bird Sanctuary, the oldest of its kind on Canada's west coast, is a prominent part of the waters at the Gorge Waterway and harbour. An enormous number of different birds call the estuaries and shorelines home and use it as part of their seasonal migration route. Take a stroll through Gorge Park to spot species like heron, cormorants, and eagle.
Another gem: the Galloping Goose Regional Trail. One of Victoria's top spots for cycling and walking, the trail starts connects Victoria all the way to Sooke. Start across the water, over the Selkirk Trestle Bridge, and make your way into Burnside Gorge. As you continue on, the trail winds through diverse topography including rural countryside and urban settings.
GRAB A BITE ON A RESTAURANT PATIO
There are many great restaurants in Burnside Gorge, and plenty with patios to sit on. Glo Restaurant + Lounge is one, with sweeping views of the Selkirk Waterway and Trestle—as they say, "as close as you can get to Victoria's Inner Harbour without getting wet!"—and a well-rounded menu that offers a fantastic brunch, lunch, dinner, and late-night bites. Head over to Wheelies Motorcycles and Cafe—a former automotive shop turned eatery—for a unique dining and retail experience. Their dishes are inspired by local ingredients and they have a great craft beer selection, and their shop side also features a workshop area for vintage Harley choppers. They have limited outside seating available.
Days Inn Victoria on the Harbour is just steps away from Burnside Gorge and many other top attractions in vibrant downtown Victoria. For conveniently located, spacious, and stylish accommodations right in the heart of the city, book your stay with us at our Victoria Harbour hotel. Get in touch to make your reservations.
Back
Recent Post
Looking for ways to support local businesses in Victoria? Pack a picnic with items sourced from neighbourhood purveyors!
Are you a sharp-dressed man? Do you have legs and know how to use them? Whatever your answer, get excited for Victoria this April!
Prev Post
Next Post